The Citylifer launches its brand-new coliving design in collaboration with Cutwork
---
SUMMARY
Dutch coliving startup, Citylife, has announced its latest partnership with Parisian architecture firm, Cutwork – known for their adaptable designs and pioneering vision for new ways to live and work – to design new building-level coliving spaces for young professionals with the intent to deliver 5,000 beds within the next 5 years. The new concept is being introduced under the name The Citylifer.
A typical The Citylifer building is centrally located and proposes a mix of short- and long-stay, fully-furnished studios and friends apartments at a fair price. Housing benefits for the studios in the Netherlands are possible based on the resident's income.
The Citylifer's floor plan is designed to fit onto an existing office grid, allowing The Citylifer to adapt its design onto vacant inner-city office buildings. The modular design is also well-suited for newly-constructed developments.
The company is in exclusive negotiations to acquire their first buildings to roll out their coliving concept.
To bring their vision to life, they are on the lookout for partnerships to be part of an exciting solution to the Dutch housing crisis.
---
Before The Citylifer there was Citylife, a Rotterdam-based real estate start-up that's been at the forefront of coliving's rise by working to create community-centric urban housing solutions for young people since 2018.
Since then, Citylife has specialised in apartment-level coliving concepts, having accumulated over 70 properties in the city with a community of more than 190 residents from 45 different countries. It is now eyeing up coliving concepts on a building scale, as the company believes the real estate conditions provoked by the current Dutch housing crisis – where soaring housing prices leave many young people to face a closed door by being priced out – and increasing urbanisation will bring in more demand for coliving.1 The company is particularly taking advantage of the coliving movement in the Netherlands, as Amsterdam held between 15-20% of coliving beds' stock (current and pipeline) in Europe in 2019.2
The Dutch company is already a few years into the industry and has earned a positive reputation among internationals and locals alike for their professionalism, speed, and customer-centric attitude as a housing operator. Through community-building events and being just a phone call away for their members, Citylife is a people-first housing operator. The real estate company is deepening this relationship by focusing entirely on The Citylifer, becoming both developer and operator by (re)developing existing buildings around the centre of Rotterdam (before ideally expanding to other major cities across Europe). According to Tjeerd Hoes, co-founder of Citylife and The Citylifer, renderings of the building have been finalised and the company is currently looking at 10 to 15 buildings to roll-out their concept.
Revolutionising urban living with community-centric coliving spaces
Loneliness is an issue many young people face in urban areas, which is why The Citylifer's design prioritises community above all else to ensure young professionals can build a social circle instantly.3 Their new, planned coliving building will have residential floors with community-centric spaces from top to bottom. Each residential floor contains a community 'living room' to be exclusively shared by around 20 to 25 Citylifers – featuring a kitchen, dining area, and an upper-level living room. The first floor offers a coffee bar, gym, gaming area, and coworking space. Finally, the building's rooftop will be transformed into a lush terrace
"The goal today is no longer to live in as many m2 as possible, but to live in a space that is intentionally designed to encourage meaningful social interactions"
says Kelsea Crawford, co-founder of Cutwork.
When it came to conceptualising The Citylifer edifice, the company partnered with renowned and innovative architecture firm, Cutwork, to design the next smart and modern home. The end result was two typologies: The Nomad and The Nest, each with an executive variation. The Nomad studios, between 25m2 to 35m2, accommodate 1 resident, while The Nest friends apartments, between 45m2 to 50m2, can accommodate 2 residents. The apartment's most unique quality is the 6m2 of multifunctional space called, "The High-Five;" "By integrating spatial fluidity, the space allows residents to seamlessly transition between various activities like sleeping, working, dressing, exercising, and watching entertainment" highlights Davine Hoes-Nagel, head of branding and interior design at The Citylifer.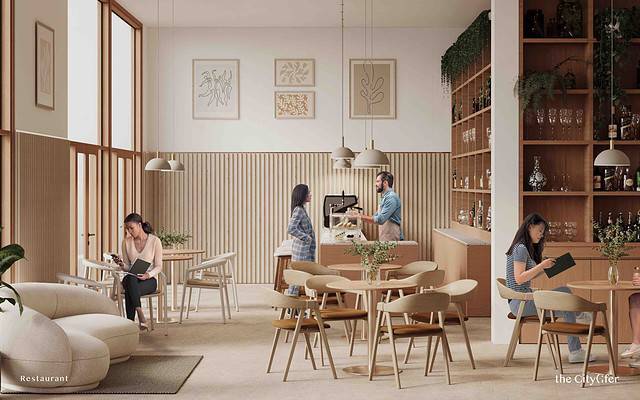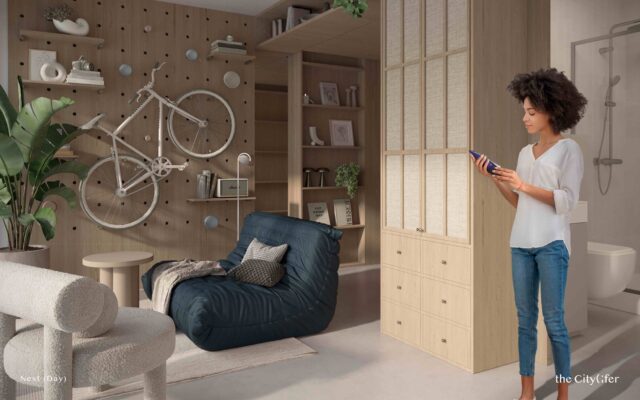 Solving unaffordability
The scarcity of apartments leads to exorbitant prices in the housing market. Young people are baulking at the current prices for a one-bedroom apartment in the Netherlands' biggest cities. Out of the 25 European cities ranked for high rental amounts, 16% are Dutch – with Amsterdam leading the list at an average rent of 2,300 euros and Rotterdam rounding out the top 10 most expensive cities with an average of 1,500 euros.4 The housing crisis additionally includes the lack of a housing option for the in-between stage of post-student life and family building, where equally-sized and affordable Friends apartments, for example, cannot be found in the existing housing stock.5 The Citylifer wants to become a safe haven for this niche target group: young professionals, expats, and digital nomads: "Taking inspiration from the brand loyalty and service found in the hospitality industry, we provide a tailor-made living experience and a place where your neighbour could become your friend," Tjeerd says.
Young people bear the brunt of the current housing unaffordability, with 30% of Dutch 25-year-olds still living with their parents.6 The Citylifer answers the question of how this housing crisis can be solved by utilising readily available yet unused office spaces in densely populated city centres.7 "Upcycling existing buildings is better for the company's environmental impact and prevents extensive adjustments to the construction already made," highlights Erik Tillemans, Director Real Estate at The Citylifer. With this strategy, the company could potentially construct over 53,000 Nomad studios in empty office spaces throughout The Netherlands. This would make a significant contribution of 17.6% towards the Dutch government's housing objective of market parties constructing 300,000 new homes by 2030.8
"The Citylifer could potentially construct over 53,000 Nomad studios in empty office spaces, contributing 17.6% towards the Dutch government's housing objective by 2030"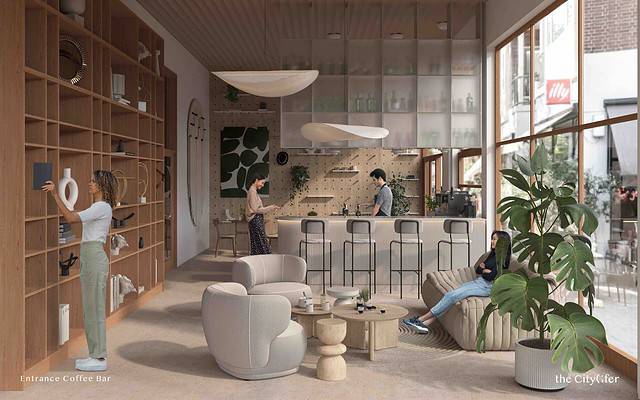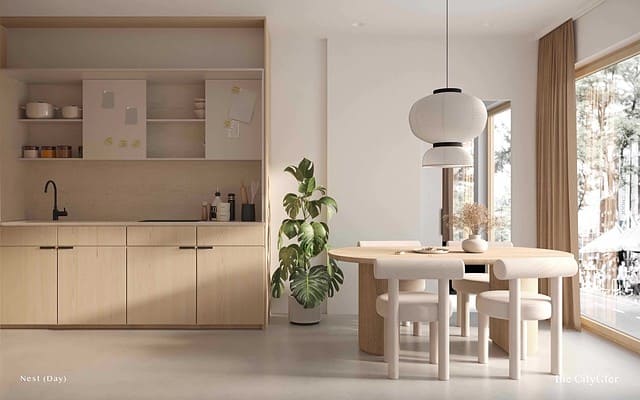 Looking towards the future
The Citylifer is brimming with profound ambition, pursuing their goal of providing 100,000 beds throughout the European Union in 20 years. "We believe in achieving this through strong local partnerships, collaboration with developers, and working closely with investors. Our goal is not just to provide housing, but to create thriving communities and spaces where people can truly connect," Erik emphasises. Dedicated to building a better future for urban living, The Citylifer invites like-minded individuals and organisations to join them in this mission together, creating a brighter future for all.
MAKING URBAN LIVING
ACCESSIBLE TO ALL
ABOUT CUTWORK
Cutwork is a Paris-based architecture design studio focused on new ways to live and work. They design adaptable interior spaces, modular architecture, and custom furniture for pioneering companies who are reimagining our next urban era. Projects include Flatmates, the first large-scale coliving space in Paris, NOMO and Polyroom, a Red Dot Award-winning coliving brand developed for Bouygues Immobilier, and the Cortex Shelter, an innovative just- add-water refugee housing solution. The company was named among the top 30 "CleanTech" companies in Europe in 2018, delivered a TEDx on 'the future of shared architecture and urbanisation in 2019, and received a FRAME Award for Societal Innovation of the Year in 2020.
ABOUT THE CITYLIFER
Founded in 2023, The Citylifer is a technology-driven and game-changing company on a mission to redefine both long and short-term residential experiences across the world. In traditional terms, they are a global coliving provider offering hassle-free, high-quality, residential solutions in urban centres. Built on four core pillars of community, accessibility, convenience, and sustainability, The Citylifer is a gateway to incredible experiences in the heart of the coolest cities in the world. Catering to contemporary nomads, The Citylifer curates exciting communities with fully-furnished private accommodations and shared facilities. Dedicated to building a better future in urban living.
CONTACT
For interview requests or additional questions, don't hesitate to reach out at:
pr@thecitylifer.com
+31 (0)10 750 41 90