The line between co-living and shared housing is initially quite blurry. After all, students have been sharing accommodation for decades, with dorms considered a form of shared housing as well. Nowadays, shared living models like flat sharing and shared buildings has gained popularity among young professionals, remote workers, friends, digital nomads, and students.
In this article, we will explore shared housing's different forms and their defining characteristics, before delving deeper into the coliving lifestyle and what makes it popular. By comparing the two housing situations, this comprehensive guide can help new city residents decide which real estate option is most suitable for their circumstances!
Important Differences Between Coliving and Shared Housing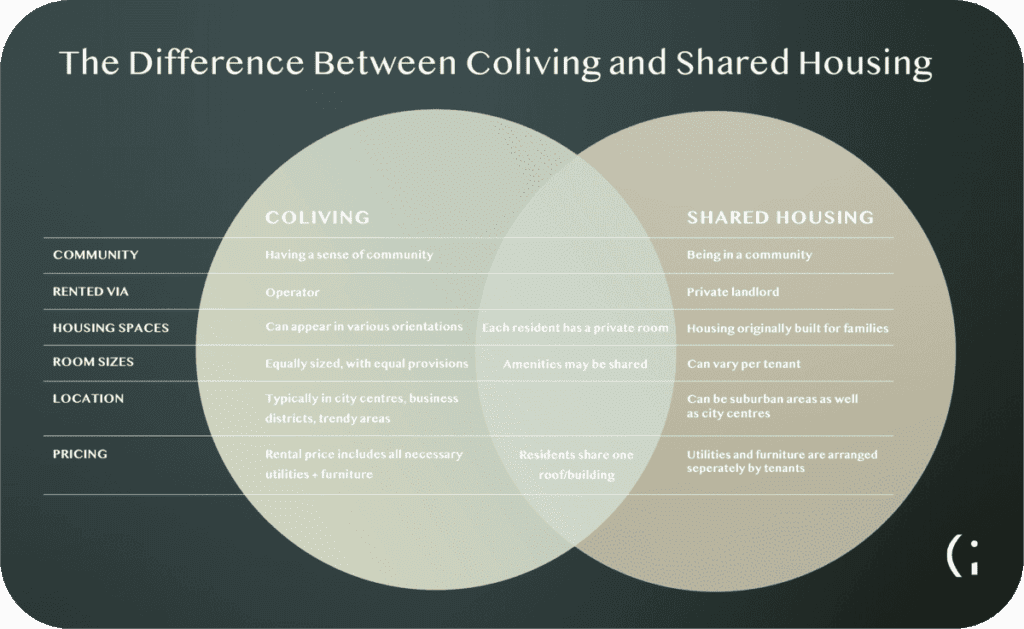 As you can probably tell, the main similarities between the two types of housing situations are overshadowed by their differences. The essential ingredient for true coliving is not the form, but the style. Don't worry, we'll clarify what this means. But first, let's quickly examine what shared housing looks like.
Shared housing refers to a shared living arrangement where two or more people live together in a single dwelling and share facilities and common spaces. Shared housing can appear in many forms, but for now, let's focus on flat-sharing and shared buildings.
If you're part of the majority of renters who live in a unit that was originally built for families but divided the bedrooms among roommates to split the rental cost, then you're probably flat sharing.
Also known as roommate living, this communal living arrangement has two or more people living under a single roof while sharing common spaces, such as a living room, kitchen, and one or multiple bathrooms. Apartments or houses that are (re)purposely designed for sharing with other people are Friends apartments, referring to the popular sitcom F.R.I.E.N.D.S.
In the Netherlands, it is typical that every resident has their own private bedroom. The residents may be friends, family members, students, or a group of strangers that share mutual needs and interests. One of the main perks of flat sharing is that most living expenses are shared – like rent, utilities, and household supplies. You can even share the cleaning duties with your housemates.
Then when you need your alone time, retreat to your private rooms and recharge. And when you fancy a bit of socialisation with your housemates, head out into the common spaces and enjoy a nice home-cooked meal together.
A downside of flat sharing is that rooms vary because the housing unit wasn't built to accommodate equally-sized people (e.g., three working professionals, for example). Your shared apartment or house will likely have one big room intended as the master bedroom and a few smaller rooms as spares for an office, a nursery, a children's room, etc. Some rooms may have more amenities (e.g., an extra sink or built-in wardrobe) than others, making an equitable living space difficult.
Shared building concepts refer to multi-unit dwellings with some shared and private facilities but do not foster a sense of community or shared experiences. In shared buildings, residents typically have private homes containing all the necessary spaces of a traditional home: private bedroom(s), bathroom, kitchen, and living room.
In these circumstances, residents may share some of the living costs, like utilities or Internet. Besides the private homes, the building may also include a gym, laundry area, coworking space, or communal areas for socialisation.
Although some shared facilities may be present, shared building concepts lack communal activities and curated events that coliving spaces do offer. Therefore, this type of shared living mainly targets individuals who value privacy and independence and do not necessarily wish to participate in the sociability offered by communal living.
Some student housing complexes are an example of shared buildings with slightly more shared facilities than previously described but still don't embody true coliving. For example, a Dutch housing agency that also owns student buildings, Lefier, sometimes has buildings which provide private rooms with their own kitchenettes. But the bathrooms are shared with a whole floor. Communal areas are scarce.
Another Dutch student housing provider, Xior, is an example of a shared building concept with no coliving aspect. Here, there may be no shared spaces at all. Instead, residents live in studios with kitchenettes and an ensuite bathroom.
On top of it all, student housing complexes lack operators who are fully invested in active promotion of community activities. 
Shared buildings are not for everyone
Overall, shared buildings prioritise individuality over the community and aren't consistent in whether the necessary-provided amenities are private or shared. If you're looking to meet new people and quickly build a social network when you move to a new place, seeking coliving options may be just what you need.

Let's bring us back to what we stand for: coliving. Simply put, it's a lifestyle. This aspect is what distinguishes coliving from shared houses and other types of shared spaces. Coliving is a lifestyle where housing operators build community into their infrastructure, connecting like-minded people with shared values and interests. Whereas in shared housing, the creation of community is a byproduct of the living arrangement, the community is intentional in coliving.
But it's not to say we put functionality on the back burner; coliving residents still receive all the amenities they need. But in addition to providing this as a core value, we are creating intentional communities in cost-effective city living.
Different types of Coliving spaces
According to Gui Perdrix – the biggest voice for coliving alive – there are four coliving space categories which create a coliving journey:
Travel and mobility-oriented: Appealing for travelers and digital nomads, they provide more experiential stays in rural areas as to give a taste of the location.
Work-oriented: Think coworking spaces – a workspace for entrepreneurs and freelancers, or coliving businesses.
Urban lifestyle-oriented: Coliving spots located in urban spaces for easy access into the large cities. Offering more amenities than a single individual could organise for themselves.
Community-oriented: Interested in intentional communities, these spaces facilitate community-building activities and invest in individual empowerment.
Here at the Citylifer, we're interested in the last two categories regarding how we build our coliving spaces. We aim to be centrally located in the big cities and help young professionals connect in a stress-free environment. Take a look at how we compare: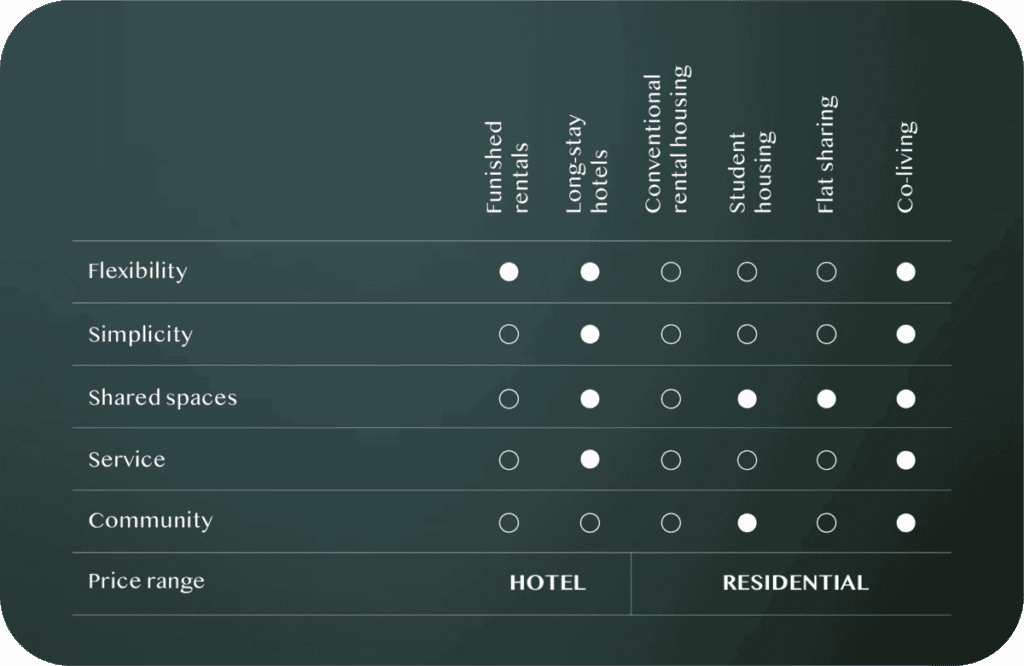 A quick Google search on coliving will reveal a pattern of people saying that coliving is more affordable housing. It might seem questionable when the rental price from most coliving operators is similar to what you would pay for a private room/studio with a landlord or student house.
But coliving rental prices combine all the extra services you'd normally arrange yourself: energy and water utilities, internet, and cleaning services. And everything's fully furnished! Because let's be honest, a trip to IKEA is never as cheap as you think it will be. Coliving gives you everything you need in just one bill.
In addition to affordable everything, some coliving operators go the extra mile and may provide a gym, pool, or game room – saving you from having to buy a gym membership or go out into the city in search of fun when you're feeling lazy. When you're moving to a new city, building a social circle right away isn't easy. And no one wants their home to feel like an adult dorm. Compared to shared housing, coliving seems like a pretty sweet deal, right?
But this isn't the only reason coliving is up and coming. We've already discussed the practical advantages of living this way via The Benefits of Coliving and in Introducing Coliving. But for now, let's dive deeper into the holistic advantages of this exciting lifestyle.
Holistic Benefits of Coliving
When it comes to how we understand a community, initial understandings of the word are just people living in one building or under a single roof. In the coliving context, Gui says a community "is the emotional connection people have toward one another while sharing a common identity." It is crucial in coliving communities that the community arises from alignment across shared values and goals.

One of the ways coliving facilitates this – in contrast to shared housing – is through a vetting process of potential residents. It ensures that the operator's living space does accommodate the target audience for their coliving orientation – e.g., young professionals or digital nomads. Shared housing has no official vetting process unless roommates or the landlord specifically request it. But even this is on a case-by-case basis.

The whole point of coliving is that it is life-enhancing. What operators offer residents are environments that improve residents mental, social, physical, and emotional well-being. And this all comes from moments and experiences shared with another human being. Coliving considers it paramount that there is an active promotion to meet and connect with others in shared homes, so coliving operators organise social activities and events, aiming to create coliving communities.
To create a sense of community rather than simply being in one means coliving operators must develop a sense of belonging – achieved by developing shared goals and values that align with their members' goals. Residents are more likely to enjoy the coliving community knowing they're invested in the same notions of sustainability or budget living, for example. They're pooling resources into a home they know is better for the planet and their bank account.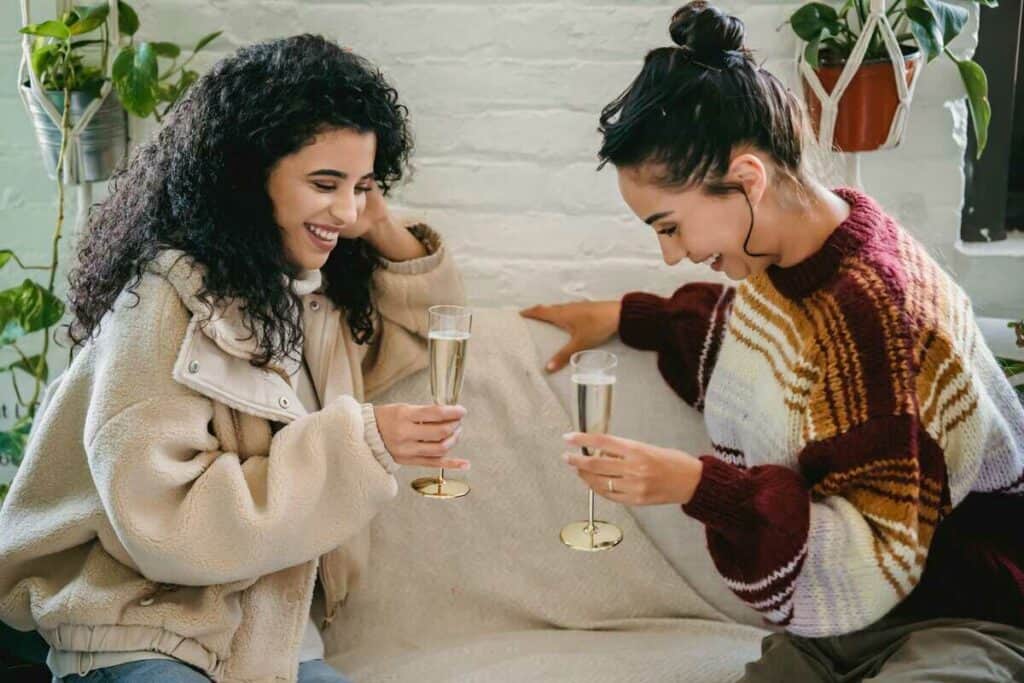 Choosing between Coliving and Shared Housing
Shared housing and coliving are unique forms of alternative living arrangements that offer their own benefits and drawbacks. Understanding their differences can inform individuals' decisions about which living situation best suits their needs and lifestyle. Whether you are seeking a cost-effective solution, a sense of community, or a luxurious living experience, there is a shared living arrangement that can meet your needs.